ForneyField mobile app allows users to Copy an existing Sample. Use the Copy feature to efficiently and quickly create new samples and reduce data entry time.
Why It's Important
Field technicians must create many samples during the day, and these samples are often very similar. With Sample Copy, field techs can easily re-use existing similar samples. Sample Copy improves data capture efficiency and accuracy.
How It Works
The following Sample data elements are copied:
1. Project ID

2. Location Name

3. Lab Name

4. Description

5. On-Site Time

6. Material Inspector

7. Material Inspect Date

8. Drawing Specification

9. Drawing Spec Date

10. Drawing Spec Author

11. Site Supervisor Notified

12. Site Supervisor

13. Supplier Name

14. Mix Name

15. Expected Strength

16. Design Age

17. Plant Number

18. Unit Weight Minimum

19. Placement

20. Placement Time Start

21. Placement Total

22. Sample Interval

23. Min Temp

24. Max Temp

25. Engineer

26. Field Tech

27. Material Type

28. Initial Cure Method

29. Field Cure Box Lat

30. Field Cure Box Long

31. Field Cure Box Description


From the Samples->Samples List screen, search for the sample you want to copy . The Copy button is displayed in the bottom left of the sample record, as shown by the red arrow in the following picture. Tap on the Copy button to copy that sample.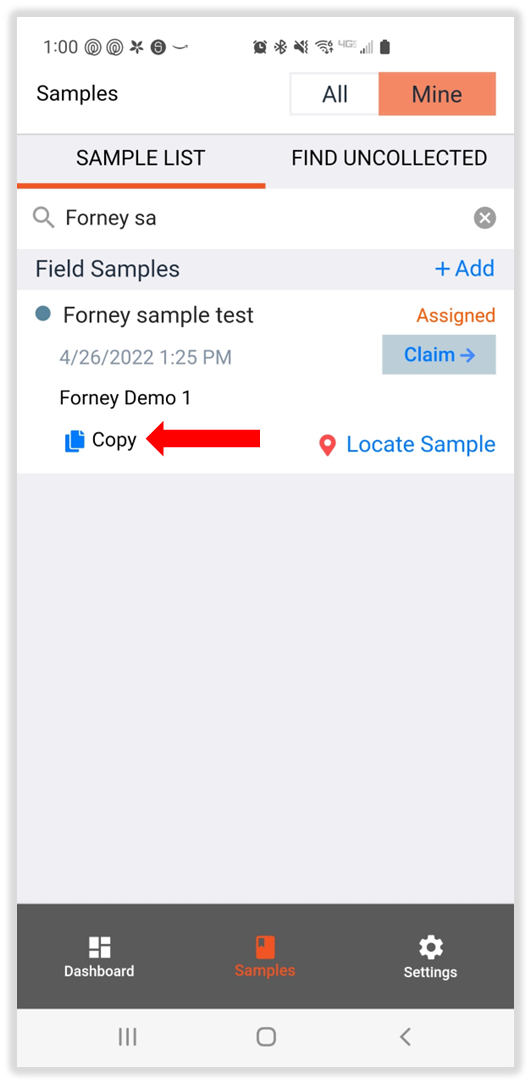 The Add Sample screen will display with pre-filled values from the copied sample. Sample Copy includes 31 data fields. You must provide a new Sample Number and Sample Date and Time. Be sure to review edit and add any other necessary data. You can then tap on the top-right Continue link to Add Sets & Specimens.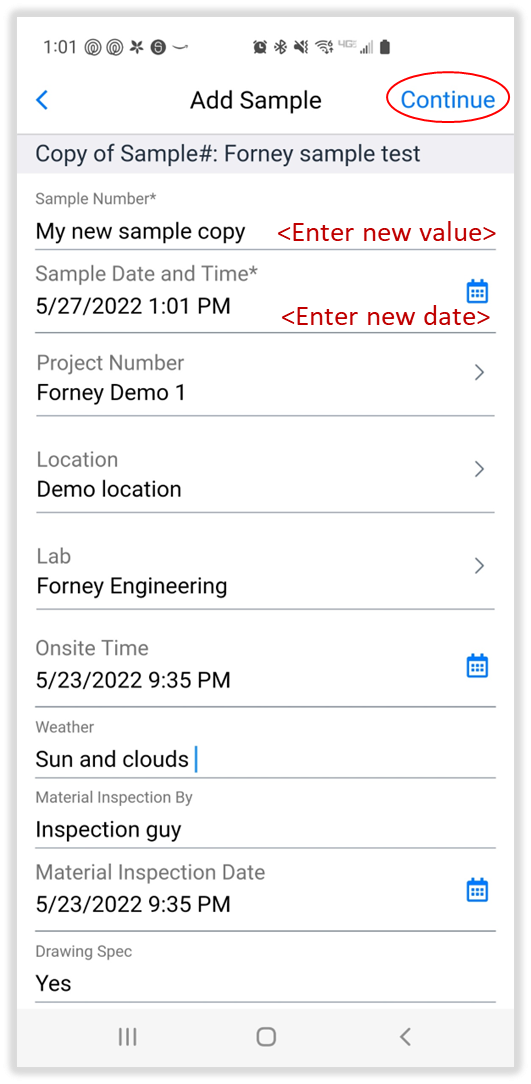 Add Sample "Continue" opens the Add Sets & Specimens screen, which automatically populates with set and specimen data from the previously entered set. You can use these default values or make edits. List your specimens by break age (in days) and delimit with commas. Use "H" or "h" to indicate a hold set.
Tap on the Create Samples & Set(s) button to complete sample and set creation. The sets will be named according to the break age value.
Select the Create Sample With No Set link if you don't want to create sets and specimens at that time. You can add sets later from the Manage Sample screen.
The example set list (7,28,28,56,H) will create 4 sets and 5 Cube specimens where H is a hold set:
| | | | |
| --- | --- | --- | --- |
| Set Name | # of Specimens | Age to Break | Specimen Type |
| 7 | 1 | 7 days | Cube |
| 28 | 2 | 28 days | Cube |
| 56 | 1 | 56 days | Cube |
| H | 1 | N/A - Hold set | Cube |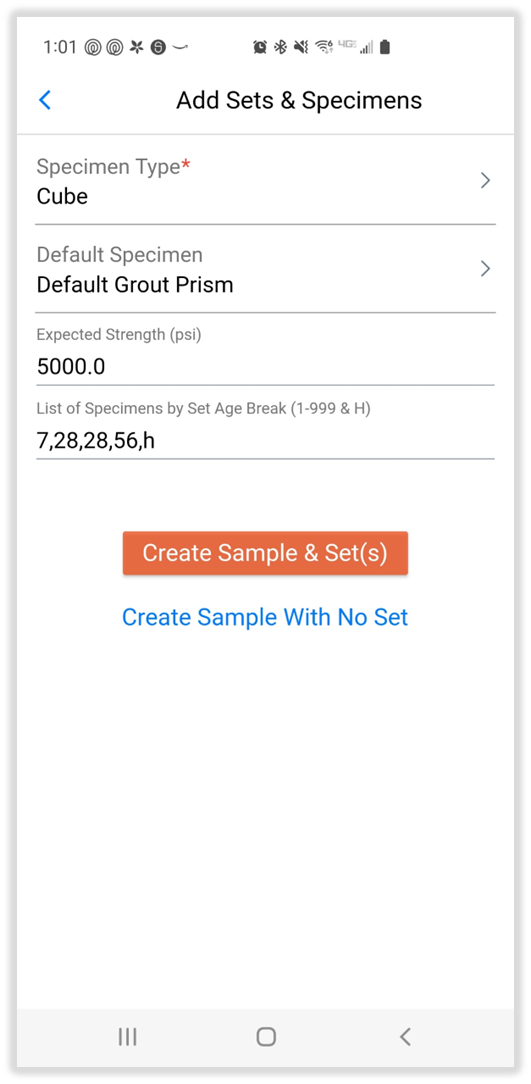 Please note that the Add Sets & Specimens screen supports a single specimen type. If your sample includes multiple specimen types, you can add more sets of different types from the Manage Sample screen. Please refer to the article on Add Sets & Specimens by list for more information.
---
Related Information: