ForneyTools Alerting provides testing labs with a path to CMT visibility in today's complex and distributed construction project landscape with automated and actionable SMS & email alerts for critical testing activities.
ForneyTools includes a fully automated, cloud-based test monitoring and alerting solution for CMT professionals. Gain testing insights in near real-time, seamlessly collaborate, and elevate test results and status visibility. ForneyTools Alerting lets you stay on top of testing issues and materials non-compliance for effective schedule management. ForneyTools Alerts empowers you to manage the test process and provides the metrics to drive future process improvements.
Configuring pre-defined alerts for your projects is effortless with the ForneyTools Alert manager. Choose the project, alert type and parameters, notification message type, recipients, and you're up and operational. Once alert notifications are flowing, stay organized with ForneyTools Alert Dashboard, where you can review and manage your triggered alert notifications.
Replacing error-prone manual processes with automated Alerts will benefit you in 5 ways:
Enhance resource utilization
Allow your team to scale
Reduce cost
Improve test process reliability and response time
Produce valuable process metrics
---
User Guide
Alert Types and Application
ForneyTools supports seven alert types to help you stay on top of progress and issues.
| | | | |
| --- | --- | --- | --- |
| | Alert Type | How it Works | Benefit |
| 1 | Test Due | Like a calendar reminder, test due notifies you when a test is due to complete in the specified coming days/hours. | Complete early breaks in time to report results to the jobsite. |
| 2 | Test Overdue | Test overdue notifies you when a test is not completed the specified due dates/time. | Quickly Address test tasks that the team inadvertently missed. Remain compliant with ASTM testing windows. |
| 3 | Completed Set | Completed set notifies you when your 28 day set has been tested. | Stay on track with test result review and reporting. |
| 4 | Early Break Set | Early break notifications can be used for road opening, mold stripping, or form removal. | Effectively manage time-sensitive tasks for your project. |
| 5 | Low Break Set | Low break will notify you when material expected strength is too low per your specification. | Avoid material and project compliance risks. |
| 6 | Outlier Specimen | Outlier will notify you when the material's expected strength is out of range per your specification. The evaluation performed against the set's average strength. Even if after set of strength is acceptable, the alert will inform if a specimen in the set is out of range. | Avoid material and project compliance risks. Identify potential mishandling of specimens. |
| 7 | Report Workflow | Report workflow notifications let you know when someone has submitted a strength report for your approval or if a report that you submitted was rejected. | Efficiently collaborate and manage reporting workflow. Proactively address issues surfaced in reports and remain on schedule. |
---
How to Enroll in Alerts
To request access to the new Alerts feature, please reach out to Forney support. Our team will work with you to ensure that you have the appropriate user accounts and permissions before your access is enabled.
ForneyTools user logins may be configured with Alert configuration/admin access or Alert recipient/view access. When contacting Forney support for enabling the alerts feature, Forney will work with you to identify the appropriate role for your organization's ForneyTools login accounts.
User Roles
Alert Role
Recipients

Notification

Groups

Alert

Configurations

Alert

Dashboard

Notification Email,

SMS Text

Admin
Add, update, delete
Add, update, delete
Add, update, enable, disable
Manage notifications
View, delete messages
View

Manage notifications
View, delete messages
---
How to Access Alerts in ForneyTools
Once you are enrolled in ForneyTools Alerts, you will see a new Alerts menu item in the top-level navigation menu.
To begin the alert setup process for the first time, choose the Alerts menu and select Recipient Directory.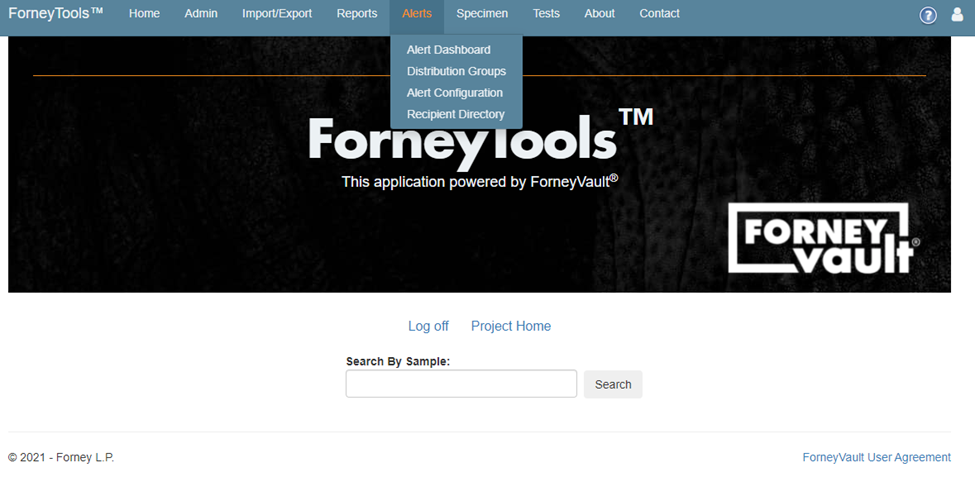 ---
More Information