You can create HMI Users in ForneyTools to identify the technicians who operate the testing machine.
In order to associate technicians with test results, you need to create HMI Users in ForneyTools. HMI stands for Human Machine Interface and identifies the ForneyLink touchscreen that connects the machine to ForneyVault, as shown here: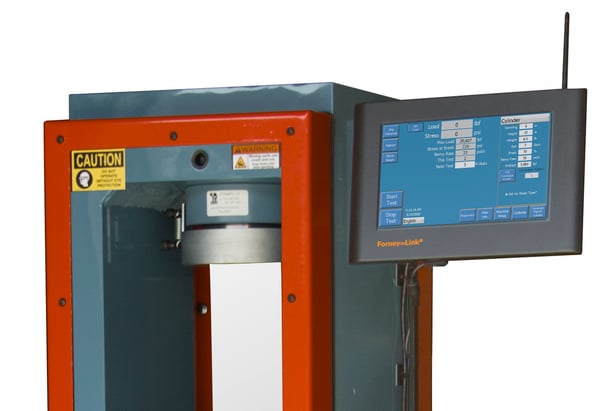 To create HMI Users:
From the main menu, select "Admin | HMI Users."
Click the "Create New" link.
Complete the form keeping these things in mind:

UserName is the field that appears at the machine, so it should be meaningful to the person logging in.
Passwords are not required and for ease of logging in at the machine, we do not recommend using them. If you keep the field blank, the technician simply chooses his or her name from a dropdown list - no typing required.
LabID identifies the lab where the machine resides. For companies that have multiple labs, this field designates which technicians can login to the machine at each lab. If a technician needs to login at multiple labs, use the default "- None -" and the technician username will appear on all machines at all labs.
Remember to mark the user as "Active." If you don't want a technician's name to appear in the list, but that technician previously completed tests as a logged in user, you can mark the technician as not active. This way, the technician is still associated with the tests that he or she completed, but the username will not appear in the list at the machine. If a technician never completed a test while logged in, you can delete the technician, as described below.
UserCode is a 100-character field that can be used in many ways. If you want to include certifications of the logged in user in the reports, you can enter those certifications here.

When you have entered your information, click "Create."
If you need to delete a user who never completed a test while logged in, click the Details link to the right of the user.
On the details page of the selected user, click Delete.
Click Delete again to confirm.
This video provides a quick demonstration of the steps described above.