To enable Zebra ZT230 printing from your browser, you must first install and configure Zebra Browser Print Software.
To access to Browser Print installation guides, login to ForneyTools and navigate to Import/Export | Print labels.
If you receive the "Unable to connect to Zebra printer" message, this means the software is not installed. Follow the "more information" link to install the printer software on your PC. The link will direct you to a ForneyTools page where you can download Zebra's Browser Print user guides and software.
You may also find Zebra printer support documents and software on their support site: ZT230 Industrial Printer Support & Download/s | Zebra
Zebra Browser Print support guide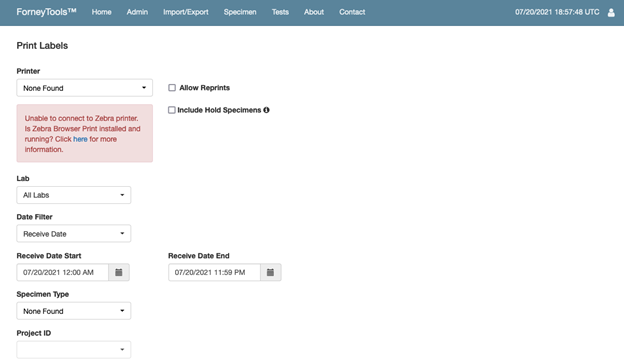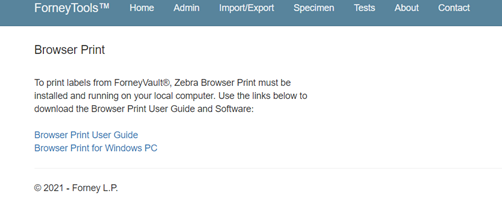 Before installing the software, ensure that you have system administrator access on your PC.
You will not need to add the Zebra printer to Windows via the control panel.
Once installed, right-click on Browser Print in the MS Windows system tray and select Settings. This will open Browser Print Settings utility: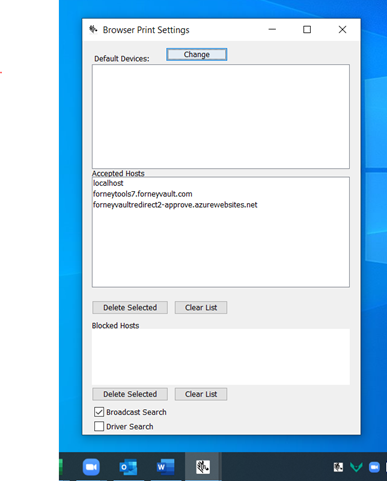 Select the Change button at the top of the Browser Print Settings dialog box.
The system will display available zebra devices on your network or directly connect to your PC via USB.
Ensure that the Driver Search checkbox on the Browser Print Settings Window is not selected.
Refer to detailed setup instructions in the Browser Print user guide.